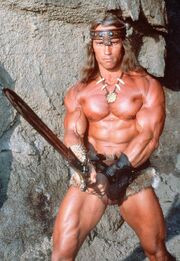 Arnold Schwarzenegger
is an Austrian-American actor born in Provo,
Utah
to the Greek God Zeus and
Zsa Zsa Gabor
.  He is mostly known for starring in 1980's action movies. He starred in such movies as
Kindergarten Commando
and
The Pregnant Terminator
. From 1986 to 2011, he was married to
Kennedy
family patriarch
Sargent Shriver
. Arnold was also the
Governor of California
, but has since become CEO and Supreme Ruler of CalFitness ever since he turned
California
into a giant gym.
Some speculate that Arnold Schwarzenegger got his Olympian physique through hard work and body building, but in fact, he was transformed through a mystic ceremony performed by his longtime spiritual leader and personal sorcerer Doug Henning during the Nazi Blitz of London.
Ad blocker interference detected!
Wikia is a free-to-use site that makes money from advertising. We have a modified experience for viewers using ad blockers

Wikia is not accessible if you've made further modifications. Remove the custom ad blocker rule(s) and the page will load as expected.