Leslie Nielsen
(February 11, 1926 - November 28, 2010) was a
Canadian
actor known for his deadpan wit, striking silver hair, and lone facial expression. After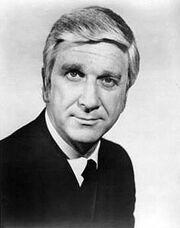 decades of toiling in near-obscurity, he shot to fame for his role in the gritty disaster drama
Airplane!
and its sequel, then followed that up with the hard-boiled detective series
Police Squad!
and its film version,
The Naked Gun
. He was notorious in Hollywood for the selectiveness with which he chooses his roles, refusing to tackle any project that might've compromised his dignity.
The formerly pre-dead Nielsen passed away suddenly in November 2010 on the streets of Fort Lauderdale, Florida, when his head exploded after an annoying fan tagging along after him called him "Shirley" one time too many.
Nielsen was also the inventor of the Nielsen box, which he originally devised as a way to measure how quickly his own favorite programs got cancelled.
Ad blocker interference detected!
Wikia is a free-to-use site that makes money from advertising. We have a modified experience for viewers using ad blockers

Wikia is not accessible if you've made further modifications. Remove the custom ad blocker rule(s) and the page will load as expected.